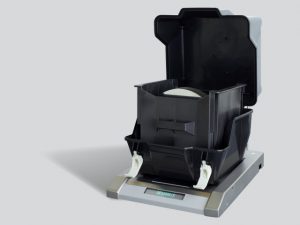 RFID reading station
The reading stations for identifying wafer cassettes and boxes can be supervised and evaluated centrally.
Product information
The RFID reading station enables fast and secure identification of open 200 mm wafer cassettes and HA-200 boxes, but it may also be used for other types of material carriers by changing the base body. It operates using an optical sensor that triggers the reading process automatically after a lot is deposited, and then in the corres identification number is displayed in a fraction of a second.
The station may be positioned on any surface and fastened there with screws upon request. It operates electrically and mechanically self-contained with its own power supply. A multi-area solution option featuring up to four spaces and a shared power supply is also available. The individual stations are able to be connected via CAN bus, which enables all reading stations to be supervised and evaluated centrally.
Another advantage: The program mode transponder developed by Fabmatics allows the reading stations to be maintained easily via the remote interface.