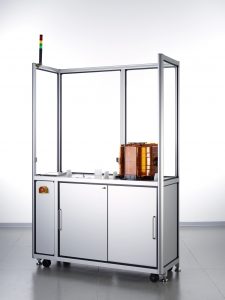 Smart Load Port
The Smart Load Port by Fabmatics provides simple and fast manual access to 300 or 450 mm FOUPs in fully automated chip factories.
Secure FOUP handover with automated identification
The RFID-based Smart Load Port (SLP) is a station for the manual input and output of 300 mm or 450 mm FOUPs into or out of an automatic overhead transport system in a semiconductor fab. The integrated RFID technology ensures automatic lot identification for during loading and unloading process. Connection with the MES enables the automatic specification of and supply to the next process step; the production lots may also be accessed manually by an operator via a user-friendly GUI touchscreen.
Features:
Every Smart Load Port features two ports
Each port is equipped with an RFID reader
Communication with the MES via SOAP/XML
E84 interface to the transport system
GUI touchscreen for manually access