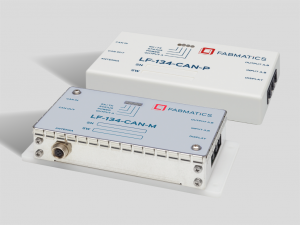 RFID Reader LF-134-CAN
The LF-134-CAN works reliably in the low frequency range, can be linked to multiple devices and has connectivity for sensors, displays and LEDs.
Product information
This RFID read/write device works in the lower frequency range (134.2 kHz). The integrated CAN bus interface enables simple networking between multiple devices.
LF readers developed by Fabmatics provide you with secure, quick identification of products and production lots. The device is able to read and write any conventional LF transponder. Two inputs and outputs allow sensors, switches, and LEDs to be connected directly.
Every LF-134-CAN reader has a daisy chain CAN IN/OUT interface for connection of multiple reading devices in a bus structure. Communication with a superordinate system takes place via the CAN/ETH Gateway CAN2WEB Advanced.
This model is therefore also suitable above all for systems featuring multiple identification articles (e.g. in storage systems).
Features
Compact design
Network-compatible
Various housing types
Various connection options (sensors, switches, LEDs, display)
Optionally available with adjustable RF power
SEMI E144 and SEMI E99 standard comform