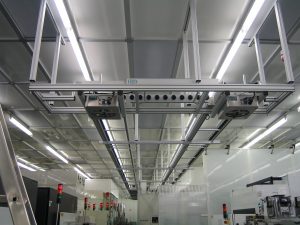 Zero Footprint Storage
The Zero Footprint Storage system by Fabmatics uses the space underneath the cleanroom ceiling to store production lots in a way that saves space and to keep it quickly accessible via an overhead transport system at all times.
Use space where it isn't needed
This innovative storage system is the ideal solution for storage of wafer cassettes, FOUPs and other material carriers in case of limited space conditions. Without having to take up costly cleanroom area, the zero footprint storage system hangs from the cleanroom ceiling and is able to accept wafer cassettes and store them there. The inventory is made by RFID in order to transmit the location of lots in real time.
Connection to a transport system, e.g. overhead transport system or conveyor elements combined with vertical lifts, enables the system to access the stored lots quickly at any time. The simple design is based on proven industrial components, enabling its size to be adjusted at any time flexibly according to the customer's needs.
Features:
Storage of wafer cassettes and other material carriers underneath the cleanroom ceiling
RFID technology enables location tracing of lots in real time
Control software compatible with SEMI E84, SECS II
Flexible design adjustment according to customer needs