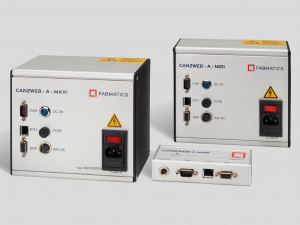 RFID Gateway CAN2WEB Advanced
The CAN2WEB Advanced is the communications expert: it provides a reliable connection between CAN bus devices and your own network.
Product information
The CAN2WEB Advanced developed by Fabmatics handles communication between RFID Readers and the superordinate system, for example MES, MCS, and others.
The various models offer a wide variety of combination options. Versions MIDI and MAXI feature an integrated power supply that that is suitable for connecting larger CAN networks with up to 25 or 50 RFID readers. The compact MINI version is set up for up to eight RFID readers.
Features:
Supports different network sizes (MINI, MIDI, MAXI)
EM robust metal housing

Up to 50 CAN-RFID devices may be connected (MAXI)