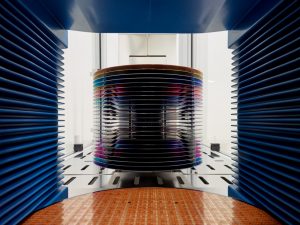 EASYload / EASYload300-200
Fabmatics EASYload systems enable comfortable and easy support in loading and unloading of 200mm or 300mm FOUPs automatically.
Automated FOUP Loading
When it comes to seamlessly loading and unloading 300mm wafer FOUPs, the device you need is EASYload. Simplify various support tasks for the 300mm wafer technology.
The EASYload300-200 also allows you to simultaneously load and unload 200mm wafer carriers and 300mm wafer FOUPs.
Specifications:
| | |
| --- | --- |
| Size: | 930 x 500 x 1,210 mm |
| Weight: | approx. 100 kg |
| Clean room category: | ISO 3 (1 with FFU) |
| Stroke: | 360 mm |
| FOUP lift: | 6 mm |
| Operation: | Semi-automatic |