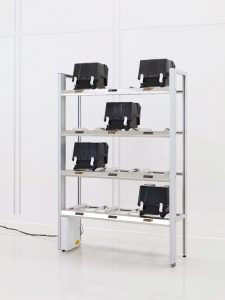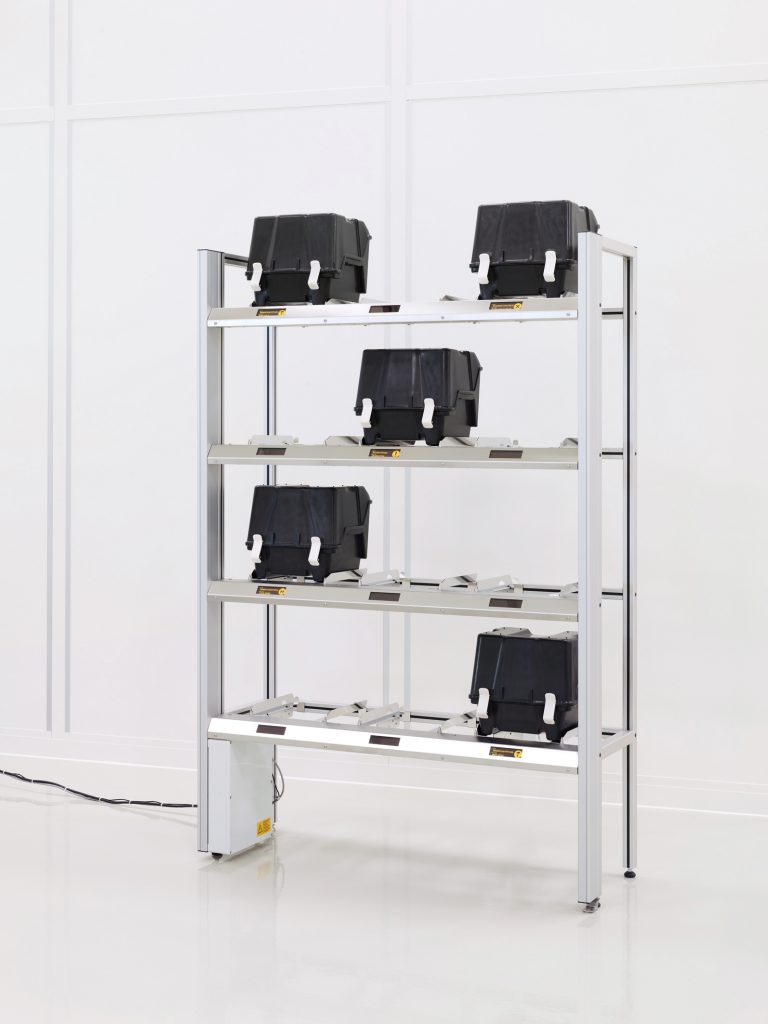 RFID rack
Retrofitted RFID storage systems from Fabmatics enable production lots to be identified automatically and stored so that they are able to be traced, which saves time and increases the production flow.
Store it automatically, find it again fast
The RFID shelf system from Fabmatics was developed especially for storage processes in semiconductor fabs. The system provides maximum efficiency and transparent storage and management of product lots (e.g. wafer carriers). With the help of RFID technology, uninterrupted tracing of storage processes is ensured. The lot being stored is identified automatically as it is deposited and then recorded in the central database.
The operator is led to or from the rack by signal lamps or display messages during the automated deposit or retrieval of the lots. Additionally, the application is able to communicate via standardised protocols with an MES (Manufacturing Execution System) arranged above it. This also displays the next process step for the lot at the rack space.
Since industry-standard racks can be equipped or retrofitted with corresponding components, the system not only offers sufficient flexibility, but it's also low-cost. One big advantage of this automation solution is the removal of the need to search for the correct lot, which often requires a lot of time. Errors during storing or retrieval are avoided. The system therefore significantly increases the production flow in a semiconductor fab and contributes to reducing operating costs.
Features:
Usable for all types and sizes of wafer carriers
One base unit is able to administer 128 storage spaces and expansion is unlimited
May also be implemented with barcode technology
ARIC:
"ARIC" has also enabled Fabmatics to adapt the system for storage and management of different reticle carriers and boxes. If the reticle is required at short notice by any equipment, specially developed cabinets for reticle boxes or special shelves for reticle SMIF pods ensure direct on-location access.