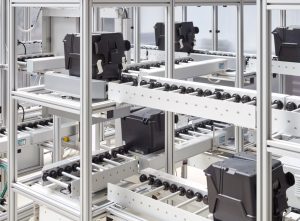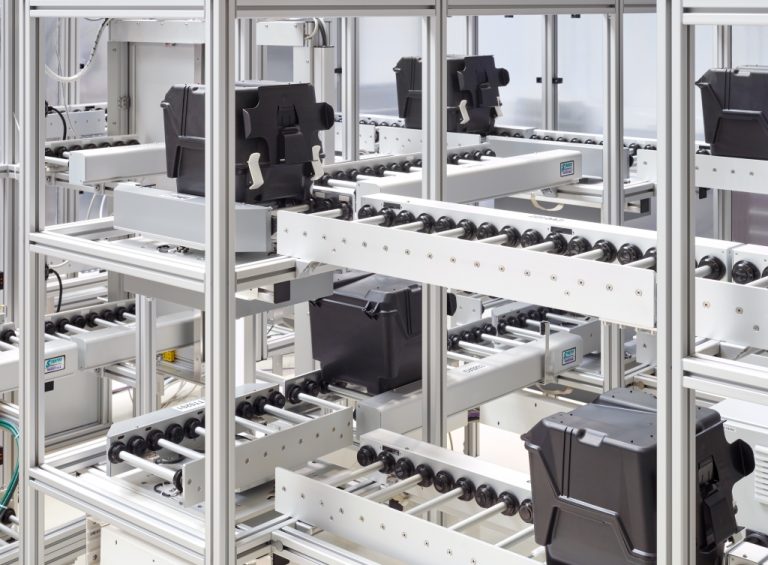 Conveyor system
With our automated roller conveyor transport system for clean rooms, manual wafer transportation in semiconductor fabs is now a thing of the past. Automated material transport to the process system saves valuable operator time, reduces throughput times and therefore improves overall production efficiency.
Intelligent conveyor system for the semiconductor industry
The clean room-compatible roller conveyor can convey different types of transportation boxes such as FOUPs, SMIF pods, HA200 boxes, open wafer cassettes and customer-specific wafer boxes.
The separately actuated drive motors of the roller conveyor transport system, arranged in zones, ensure collision-free automated transportation. The transported goods can thus be accelerated or decelerated at different speeds in the sections. To ensure that the drive side is synchronized with the passive rollers, the rollers are connected to hollow shafts at regular intervals.
The versatile combination of line, lift and rotating elements allows very individual wafer transport solutions to be implemented for semiconductor fabs. The system offers the very best options, especially when it comes to making optimum use of limited space. It is also possible to integrate several production levels of a fab with this transport system.
Additional work steps such as reading out carrier IDs and wafer IDs, mapping and aligning wafers can be incorporated into the transportation process to save time – virtually anywhere along the transport route.
A special feature of the conveyor system for clean rooms is the simple and flexible control via integrated micro-controllers. Due to the modular design of the conveyor elements and the straightforward cabling, the conveyor system can be quickly implemented into active production in semiconductor fabs.
Special features of the conveyor system:
Meets the requirements of clean room class ISO 3 / US FED 1
Configurable for different product sizes
System extensions are possible at any time
Automation and integration options with SEMI E82; E84; E99
Easy installation and integration during ongoing production thanks to the modular design
Simple and flexible control via built-in micro-controllers
Realized automation scenarios in semiconductor fabs:
Intrabay and interbay transportation of 200mm wafer cassettes under the clean room ceiling, transportation to the process system via lift systems and mobile robot systems at operator level
Wafer box movement across three factory floors incl. input and output stations at operator level
Empty Pod Management – Buffering of transportation boxes under the clean room ceiling