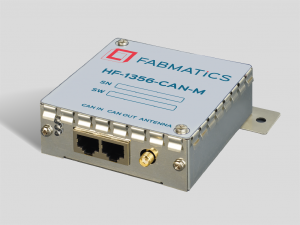 RFID Reader HF-1356-CAN
The RFID Reader for the high frequency range is suitable for all commercially available HF transponders and can simultaneously read several lots.
Product information
This high-frequency 13.56 MHz RFID read/write device provides a CAN bus interface and easy connection of multiple devices.The HF-1356-CAN was developed for secure, fast identification of products and production lots. The device operates in a frequency range of 13.56 MHz and includes a read/write function for all commercially available ISO15693-HF-transponders. Simultaneous reading of multiple lots per bulk is possible with the HF-1356-CAN by default. It is also particularly beneficial, if large amounts of data have to be read at high speed. The HF-1356-CAN features a CAN IN and a CAN OUT connection. Therefore multiple reading devices can be connected with each other more conveniently. This makes it especially useful when working with multiple sequential identification positions, such as with storage systems. Communication with a superordinate system takes place via the CAN/ETH gateway CAN2WEB Advanced.
Features:
Compact design
Network-compatible
Robust metal housing
Impedance adjustment
International RFID Standard