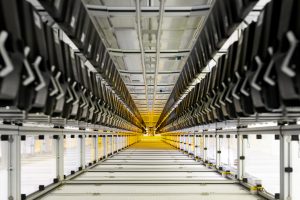 FlatStocker: Automated Carrier Storage System for Semiconductor Plants
FlatStocker is an innovative system to store material carriers e.g. for open wafer cassettes and H200 boxes underneath the cleanroom ceiling.
Use space where it isn't needed
This innovative system is the ideal solution for the space-saving storage of material carriers e.g. open wafer cassettes and HA-200 boxes where floor space is limited and very valuable. Without using costly clean room floor space, the FlatStocker hangs from the ceiling and can be designed to handle variety of cassette types. FlatStocker provides carrier id information, in real time, to the customer's MCS (Material Control System) using RFID and barcode technology.
Connected to a transport system and vertical lifts, the system enables fast storage or access to batches.
The simple design is based on proven industrial components. This enables great flexibility in laying out the most effective configurations to meet the customer's storage requirements and available space.
External Content

Please accept "External Media" cookies to see the content.

I accept the display of external media and the transfer and processing of personal data according to the privacy policy.
Features:
Storage of product carriers, e.g. open wafer cassettes and HA-200 boxes below the cleanroom ceiling
RFID and barcode technology enables location tracing of lots in real time
Controller software compliant SECS GEM / SEMI E88 / SEMI E84 Interface for carrier transfer to other systems
Flexible design adjustment according to customer needs
Up to ISO 3 / US FED class 1
Operating speed 1.5 m/s in ISO 4 clean Rooms