RFID retrofitting
RFID technology is a fundamental prerequisite for the far-reaching automation of production and logistics processes. Our RFID retrofit solutions close the gap when it comes to intralogistics in older semiconductor fabs.
RFID tag retrofitting for wafer cassettes
With this cost-effective alternative for retrofitting wafer carriers with RFID tags, even older semiconductor fabs can now identify their products automatically and reliably.
The challenge of this method of RFID retrofitting lies mainly in the subsequent attachment of the transponders to the carrier. Common techniques such as gluing or clip attachment lead to outgassing or friction, which in turn lead to contamination and particle formation. With the technique that we have developed, the RFID tags are welded to the carrier using ultrasonic. The transponder is attached to the carrier in a hermetically sealed transponder holder. It fits exactly to the design offered by the carrier supplier. The weld seam is produced in a way that neither surface changes nor mechanical changes to the carrier occur.
RFID antenna retrofitting for loadports
To retrofit loadports of process tools with RFID antennas, Fabmatics developed some clean and cost effective fixture solutions.
Bridge
For process tools with several adjoining loadports (2 – 4 loadports)
Can be easily adapted to different tools with a minimum of mechanical processing
Lantern
For single antenna integration (single loadport)
Its foot can be attached to any metallic surface. A stainless steel pipe, guiding the antenna cable, can be bent to allow for a great range of different geometries which guarantees an unobtrusive positioning.
Special antenna fixture adaptions, e.g. for vacuum chambers and wafer sorters, are also available.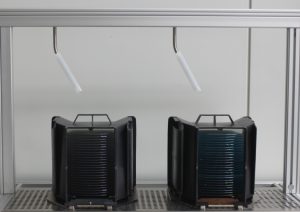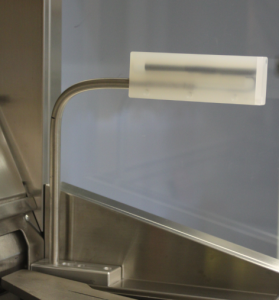 RFID in transport and storage
Ensure seamless tracking and tracing of your production lots, even during transport and storage of the wafer cassettes.
Fabmatics has developed solutions for this as well: