Management
Heinz Martin Esser and Dr. Roland Giesen direct the company with special attention to the needs of the customers.
"We set the standard for your company's success!
Meet your challenges with us. We will help you achieve your goals effectively with competence, vision and a systematic approach."
Heinz Martin Esser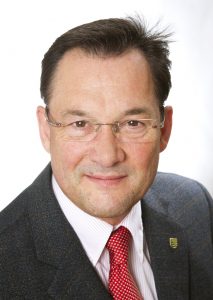 Heinz Martin Esser, born in 1955, completed his studies of supply engineering at the university of applied science in Cologne with diploma in 1981. In 1985 he got an additional university degree in business administration.
He gained a wide experience in detailed engineering and project management for large and complex investments for nuclear industry and beverage and food industry. 1996 he was assigned to Krantz-TKT Cleanroom Technology as branch manager to build production clean rooms and facilities in semiconductor and pharmaceutical industry.
In 1999 he was appointed as CEO of Roth & Rau – Ortner GmbH, Dresden (formerly Ortner c.l.s. GmbH). The company provided automated transport, storage and handling systems, RFID components and special products for cleanroom applications as well as complex systems expertise in AHMS installation and qualified services for the international semiconductor industry.
Following the merger of Roth & Rau – Ortner GmbH with HAP GmbH Dresden in September 2016 to form Fabmatics GmbH, Heinz Martin Esser is one of the managing directors responsible for the "Sales & Marketing", "Customer Service" and "Administration" divisions.
Since 2001 Heinz Martin Esser has been a member of the board of directors of the high-tech network Silicon Saxony e.V. In 2009 he was assigned to be the speaker of the board. Since 2008 he has been a member of the European Advisory Board of the worldwide industry association SEMI as well.
Dr. Roland Giesen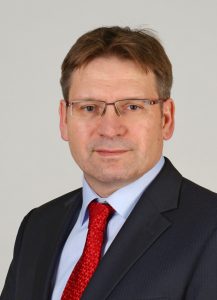 Roland Giesen was born in 1968. After completing his studies and doctorate at RWTH Aachen University, he began his professional career in 2000 at Infineon Technologies in Munich.
Afterwards he was responsible at Infineon Technologies Dresden and QIMONDA, among other things, for material cost reduction as well as partial areas of production and central purchasing.
From 2008 to 2015 Roland Giesen worked for Applied Materials in international purchasing as well as in customer, supplier and service management.
In 2015 he moved to the Chemnitz-based technology company 3D-Micromac AG. As Chief Operating Officer he held the position of Production Manager and was responsible for Material Management, Project Management, Manufacturing and Assembly, Commissioning and Service of Laser Systems as well as Quality Management and Quality Assurance. In addition, Roland Giesen was appointed Managing Director of 3D-Micromac Laser Technology (Wuxi) Co., Ltd. in China in 2016.
Roland Giesen joined Fabmatics GmbH in September 2018. With the move of Dr. Steffen Pollack to the newly founded Advisory Board, Roland Giesen will manage the company together with Heinz Martin Esser as of January 1, 2019. Dr. Roland Giesen will then be responsible for project management, engineering, production preparation and manufacturing.