21.03.2022
Rail-guided robot: market launch of HERO Rail 2.0 in summer 2022
Last week, the Fabmatics engineering and technical team came together for a special event. They bid farewell to the 151st HERO Rail of the first product generation on its way to the customer. The HERO Rail started a very special success story for Fabmatics 12 years ago. The rejuvenated HERO Rail will be launched in the summer of 2022.
HERO Rail successfully on the market for over 10 years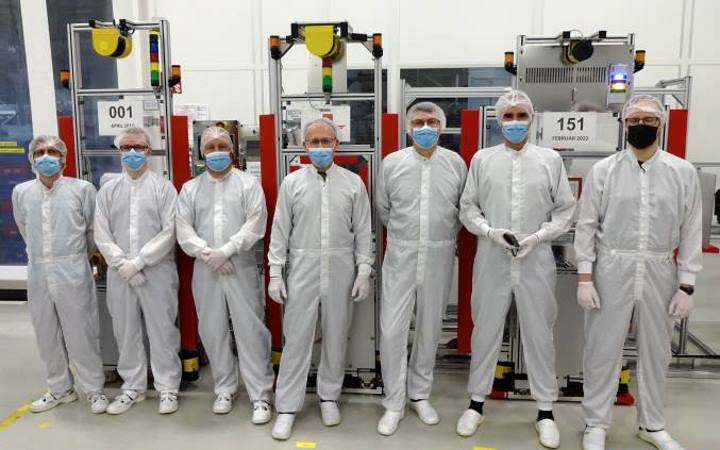 At the beginning of March, the 151st and thus last HERO Rail of the first product generation left the Fabmatics factory. The first of its kind was delivered to Infineon Dresden on April 21, 2010. The rail-guided HERO (HElping RObot) Rail automatically transports wafer cassettes through a semiconductor factory to the process machines and picks them up again from there – without any human intervention.
The HERO marked the beginning of a success story for Fabmatics. Around 150 autonomous rail-guided robots are now working reliably 24 hours a day, 7 days a week in European semiconductor factories.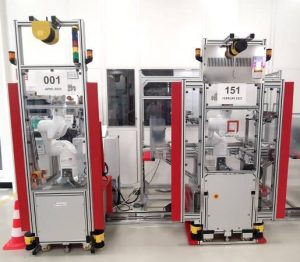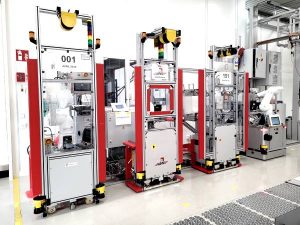 Over the past twelve years, the HERO has been continuously optimized and further developed as well as adapted to special customer requirements: Double grippers, local buffers, ride-along buffers, pass-through monitoring, upper floor rail, lower floor rail are just a few stations on its development journey.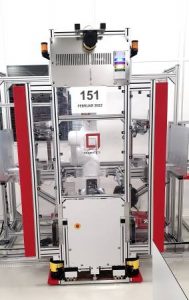 The 151st specimen is also a "special unit" with eight buffers traveling along the side. Due to its appearance, it has been affectionately christened HERCULES by the Fabmatics engineering team.
With its high reliability and robustness, the rail-guided HERO Rail is more attractive than ever to our customers. Reason enough to transfer it to a new product generation and give it a makeover.
New product generation of rail-guided robots is in the wings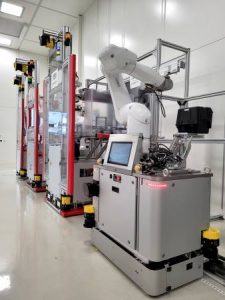 The HERO Rail 2.0 is characterized in particular by
a more powerful drive for more speed,
a robot arm with SIL3-PLe safety features for high productivity and collaboration with humans,
a modular design for quick adaptation to the customer's production environment,
a power supply – in addition to the proven drag chain – also with rechargeable battery and
a safe SIL3-PLe absolute positioning system.
Thanks to the new features, the new HERO Rail does not need any of the back panels and bumpers that have been used up to now. The first of its kind will be delivered in summer 2022.
Coming soon, you will find all product information about our revamped HERO Rail 2.0 here.
For first-hand information, our sales team is of course at your disposal.
Contact our sales teams:
Europe
USA
Singapore & Malaysia
Taiwan & China
+49 351 65237-200
Email

+1 801 7480476
Email

+65 9106 2386
Email

+886 912531863
Email