06.05.2021
Fabmatics benefits from the boom in the semiconductor industry
Successful since 30 years: Dresden-based company supports semiconductor manufacturers with factory automation
Industry 4.0 specialist aims to expand market position in the USA and Asia
Expansion of product range: Company presents new generation of
handling systems and mobile robotics
30-year company anniversary at Fabmatics GmbH: The company is one of the leading suppliers of automation solutions in the semiconductor industry. The product portfolio includes solutions for handling, transport, and storage of wafers and photomasks as well as systems for real-time identification and localization of products. Fabmatics also supplies handling products to well-known equipment manufacturers for use in semiconductor fabs. With new products and new ideas, Fabmatics intends to continue to convince its customers, such as the major semiconductor fabs in Dresden, and to acquire additional customers in the coming years. "In Europe, we already have a strong market position, especially as a system integrator that creates comprehensive material flow automation solutions for production lines," says CEO Dr. Andreas Purath. "We are pleased that our offer is also increasingly requested from the USA and Asia. We are working and certified with the largest foundry in Asia. In the USA, there are many 200-millimeter foundries that are our specialty and hold a lot of potential for us. It is our goal to become an important partner for chip manufacturers in these semiconductor regions of the world as well."
Boom in the semiconductor industry boosts demand for automation
"The semiconductor industry is booming and for us this offers great opportunities for growth," says Managing Director Dr. Roland Giesen with conviction. "The advancing digitization trend in all areas of life – now also fueled by the Corona pandemic with home office equipment and the like – is giving chip manufacturers enormous demand that needs to be met. Automation is an essential building block in this context, in order to use the production machines effectively 24 hours a day as well as to deliver high quality in the yield."
"Especially in the 200-millimeter world, there is still a great need to retrofit existing fabs with automation solutions," adds Purath. "The combination of continued high demand for chips and cost pressures in the industry makes such modernization attractive. This now also applies to the back-end area, where chips are occasionally packaged in packages and tested. We are also increasingly receiving automation inquiries from there."
Extensive specialist knowledge of automation under cleanroom conditions
"Our core competence lies in particular in the overall integration of automation systems into a semiconductor fab, as well as in our specialized knowledge of cleanroom conditions and SEMI standards," says Giesen. "When it comes to transporting the high-quality wafers – the silicon wafers on which microchips are manufactured – the primary focus is on precision, particle-free handling and 100 percent safety during handling. We have mastered this almost perfectly thanks to our now 30 years of experience. Our customers greatly appreciate this know-how. At the same time, we observe with interest the developments in other industries that have similarly high requirements for precision and cleanliness. We have our eye on medical technology and the pharmaceutical industry in particular."
Multiple awards for innovations
Fabmatics is one of the fastest-growing medium-sized companies in Germany. The company has recently received several awards for this. For example, Fabmatics ranked 35th in the Handelsblatt ranking "TOP 100 of medium-sized companies 2020", and the company made it to 91st place in the study "Innovations-Champions 2020 – Exclusive ranking of the most innovative medium-sized companies" by WirtschaftsWoche.
In 2019, Fabmatics was able to secure 2nd place in the "Saxon Innovation Award" with its freely navigating, mobile robot SCOUT, which allows scaling in size and shape as well as the handling unit thanks to its modular design.
The company intends to continue demonstrating its innovative strength in the future. "In recent years, we have greatly expanded our software expertise ", explains Managing Director Dr. Roland Giesen. "We see a lot of potential for the future in this area. For example, digitization and artificial intelligence are creating completely new opportunities to generate added value for our customers. They will be able to collect and evaluate large volumes of data via their future in-house 5G data networks. Our products are therefore already 5G ready today, and in R&D we are already looking at the next standard, 6G."
New products for semiconductor fabs
Fabmatics is presenting new products in its anniversary year. These include the CubeStocker storage system, a floor-based system for storing a large number of open 200-millimeter carriers in cleanroom class 1 (ISO3). The heart of the system is a robotic gantry consisting of two linear axes controlled in parallel and a six-axis robot. Another new addition to the portfolio is the Test Wafer Center (TWC) for the automation of test wafer handling, including the assembly of individual wafer lots, intermediate storage, re-sorting and verification of wafers.
Existing products have also been further developed and equipped with the latest technology. Customers can look forward to a new generation of the HERO Fab mobile robot line and the HERO Rail rail-mounted variant. A new generation of retrofittable purge storage systems for 300-millimeter factories will also be launched. The purge systems ensure that wafer containers are always purged with nitrogen during intermediate storage. This reliably protects against undesirable chemical reactions on the sensitive wafer surfaces.
Continuing the success story
"Fabmatics has developed very positively," says a delighted Dr. Steffen Pollack. He founded HAP Handhabungs-, Automatisierungs- und Präzisionstechnik GmbH Dresden together with Manfred Jähnert and Lothar Andritzke on May 6, 1991. The founding fathers are still among the shareholders, as is Süd Beteiligungen GmbH, which had already actively supported HAP in 2014 with a succession solution.
Fabmatics GmbH was formed in 2016 as a result of the merger of HAP GmbH and Roth & Rau – Ortner GmbH. The products of the two companies complemented each other almost ideally, and the two teams have also grown together in the meantime.
This was supported by the relocation of the entire workforce to a new location:
Fabmatics' company building has been located in the north of Dresden, in the MicroPolis industrial park, in the immediate vicinity of the airport, since December 2016. There, 3,800 m2 of office and production space are available, including a 500 m2 clean room.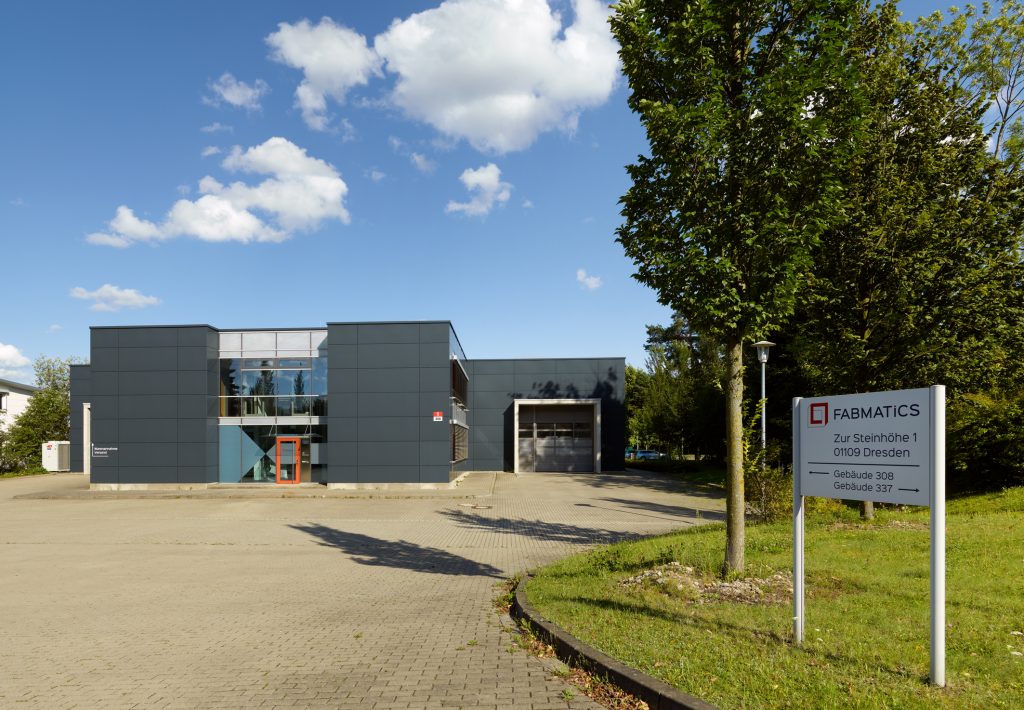 Fabmatics creates further jobs for highly qualified specialists
"Overall, Fabmatics is on a very solid growth path," sums up Dr. Andreas Purath. "And that is why we also have many tasks for new employees*. We are always on the lookout for qualified personnel; in the last five years, we have hired about 40 new specialists and managers."
With Corona vaccinations progressing and infection levels expected to be more relaxed in the second half of the year, the company hopes to celebrate its 30th birthday together with employees, customers and business partners in September.
Editor's note: The anniversary celebration is postponed until 2022 due to the Corona measures.

About Fabmatics:
Fabmatics GmbH, headquartered in Dresden, is an experienced specialist in the automation of material flows and handling processes in semiconductor factories, semiconductor process plants and other high-tech production environments. Founded in 1991, the company has been successfully implementing customer-specific automation projects in the semiconductor industry for 30 years. This has resulted in a strong market position, especially in the modernization of 200-millimeter semiconductor fabs worldwide.
Fabmatics has the unique competence to offer comprehensive solutions in the field of material flow automation for use under cleanroom conditions from a single source. The range of services includes a modular product range of hardware and software for the automation of handling, transport and storage processes as well as solutions for product identification and localization. Systems such as mobile robots, robot cells, storage systems under the clean room ceiling, RFID components and much more ensure a more efficient, faster and safer production process in a semiconductor factory.
Fabmatics GmbH, including its subsidiary Fabmatics USA Inc. in Sandy (Utah), is active worldwide and currently employs around 200 people. Fabmatics GmbH is a member of the global industry association SEMI, the high-tech network Silicon Saxony e.V. and the AND Automation Network Dresden.
---
Für Presse-Rückfragen:
Fabmatics GmbH, Kathrin Kammer, Head of Marketing, Phone: +49 351 65237-230, Email
WeichertMehner GmbH, Robert Weichert, Phone: +49 351 50140200, Email
Impressions from 30 years of automation