25.10.2023
Fabmatics receives the Stäubli Robotics Award 2023 for innovative storage solution CubeStocker
Our innovative concept for the intermediate storage of wafers under cleanroom conditions wins a prestigious award.
Excellent: Highly clean, automated wafer storage in a confined space
The Robotics Award is presented by Stäubli Robotics, the world leader in industrial automation, every two years at their Partner Summit. With this award, the company honors particularly innovative robot solutions in the automation sector.
This year, we were pleased to receive this special honor for our fully automated storage system for wafers – the CubeStocker. The Fabmatics engineers integrated the six-axis Stäubli cleanroom robot TX2-90XL in Super Cleanroom (SCR) design in the implementation of the innovative system. Here, it performs demanding handling tasks and ensures precise handling of the valuable load.
Our managing directors Dr. Roland Giesen and Dr. Andreas Purath were delighted and proud to accept the Robotics Award on the evening of October 19, 2023 at Castle Philippsruhe in Hanau:
"It is a great honor for us to receive this year's Robotics Award for our CubeStocker. We very much appreciate the trusting and professional cooperation with Stäubli. We have been using Stäubli robots in other automation solutions for many years. They meet our requirements for cleanliness, reliability and precision to the highest degree and enjoy high acceptance among our customers."
The CubeStocker: Precision, particle-free and 100% safety
The CubeStocker was developed by us as a floor-based fully automatic storage system for open 200mm wafer carriers.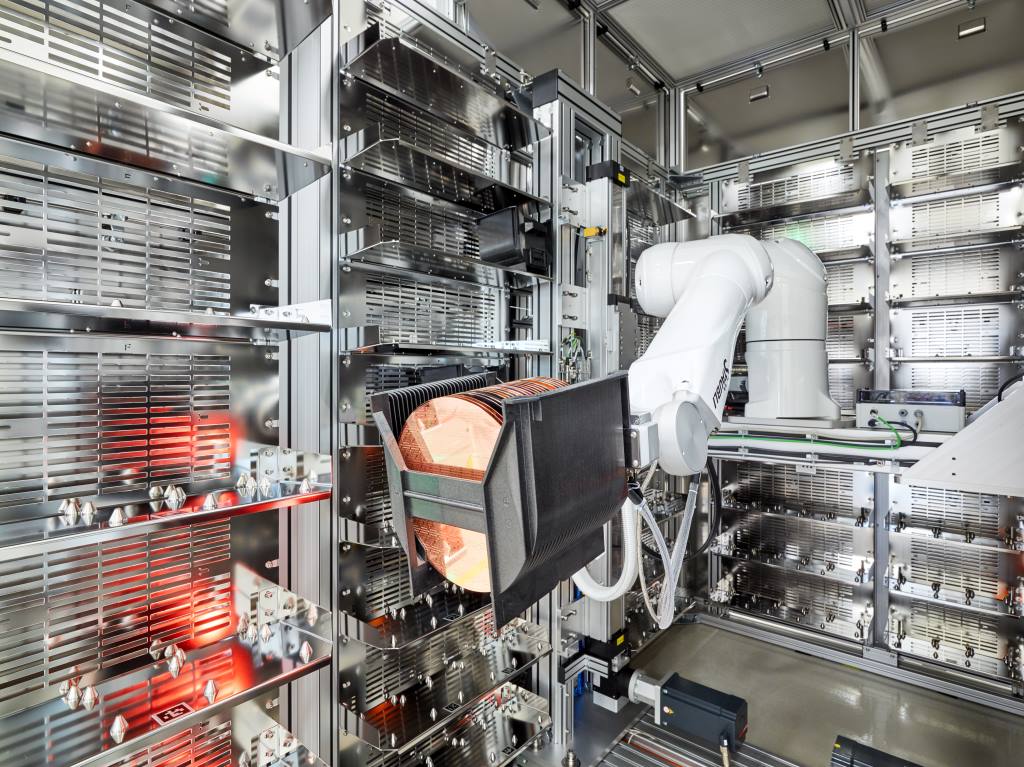 Required task
Realization of a clean room compatible, fully automated storage solution with high packing density on a small footprint for open wafer cassettes
Connection of the system to an existing transport system
Enable direct access at any time to any stored cassette (random access)
Fully automated storage and retrieval of material
Challenges
Ensure ISO 3 class cleanroom environment both for storage and handling
Fast access times
Utilization of the entire room height from floor to ceiling, reaching every single storage slot
Solution: High-purity 360° storage of wafer cassettes in the CubeStocker
"Storage cabinet" with storage locations on all four inside sides from floor to ceiling (total of about 200 lots).
In the center, a robot portal consisting of the Stäubli TX2-90XL 6-axis robot in Super Cleanroom design, which is raised or lowered on two
linear axes while moving
Own cleanroom atmosphere due to built-in filter fan units
External Content

Please accept "External Media" cookies to see the content.

I accept the display of external media and the transfer and processing of personal data according to the privacy policy.
The CubeStocker offers a unique combination of compact installation space, good integration into the processes and integrated cleanroom atmosphere.