23.11.2020
Fabmatics again certified according to ISO 9001 and ISO 14001
Certificates confirm that Fabmatics GmbH aligns its activities daily with high quality and environmental standards and continuously improves processes.
More resource-saving, more efficient and even more reliable – these are the standards by which Fabmatics GmbH continuously improves its processes and plants. Every day, our engineers, technicians, admins, project managers, team and department managers and the managing directors check their work.
Therefore, it goes without saying that we regularly have ourselves checked and evaluated by a certified external institution in an audit with regard to quality and environmentally compatible work in accordance with ISO 9001 and ISO 14001.
These globally recognized standards define the requirements for effective quality management (ISO 9001) and an environmental management system (ISO 14001). This makes projects even more transparent for customers: responsibilities and competencies, structures and workflows are bindingly regulated and documented in process and procedure instructions.
The result: Fabmatics has passed the external audit for the second time in a row without deviation. The certificates for ISO 9001 and ISO 14001 have been extended until 2023.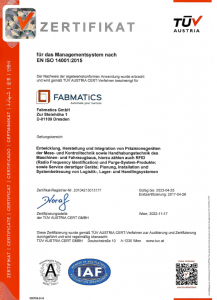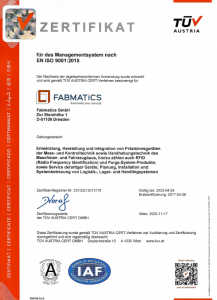 "We continue to comprehend the orientation towards these standards as the optimal and sustainable way of working for our customers, with our business partners and colleagues and for ourselves. Well-known companies – especially in the semiconductor industry – rely on us for their highly complex production. We do everything in our power to defend and further expand this trust", comments Dr. Roland Giesen, Managing Director of Fabmatics GmbH.
In accordance with this guideline, we have additionally completed an RBA (Responsible Business Alliance) audit in 2019. Since then, we have been one of very few companies in Europe to have successfully completed an RBA audit. The RBA Code of Conduct sets standards to ensure that working conditions in the electronics industry supply chain are safe, that workers are treated with respect and dignity, and that manufacturing processes are environmentally sound. By following this code, we are fulfilling our social responsibilities, working to improve production requirements and actively promoting a culture of innovation within our company.
For many of our national and international customers, these certifications are the basis for long-term cooperation and joint existence in international markets. With our holistic approach we convince as a reliable, future-oriented partner.