14.07.2023
Fabmatics again certified according to ISO 9001 and ISO 14001
These certificates confirm that we act in accordance with high quality and environmental standards on a daily basis and work continuously to improve our processes.
It is a matter of course for us that we regularly have an audit carried out by a certified external organization in order to have our quality and environmental work checked and evaluated in accordance with ISO 9001 and ISO 14001. In April of this year, we again successfully passed the external audit by TÜV Austria without any deviations. The certificates for ISO 9001 and ISO 14001 were extended until 2026.
Our dedicated engineers, assemblers, administrative staff, project managers, team and department managers, all the way to the managing directors, are committed every day to making our processes more resource-efficient, efficient and reliable.
"Product quality and sustainability are established Fabmatics values, which are backed up every day by efficient and functional process and risk management. We continue to see alignment with the two standards as an incentive to improve the way we work to the high satisfaction of our customers, business partners and employees," sums up Dr. Roland Giesen, Managing Director of Fabmatics GmbH.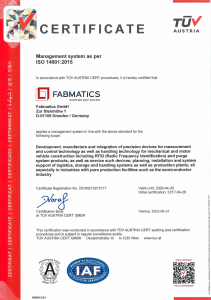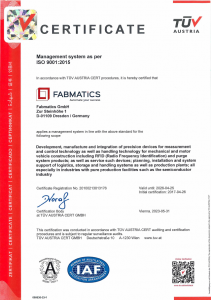 In accordance with this guideline, we have already successfully completed an additional RBA (Responsible Business Alliance) audit in 2019. This makes us one of the few companies in Europe to have passed this audit. The RBA Code of Conduct sets standards to ensure that working conditions in the electronics supply chain are safe, workers are treated with respect, and manufacturing processes are environmentally sound. By adhering to this code, we embrace our social responsibility, work to improve production requirements, and actively promote a culture of innovation within our company.
For many of our national and international customers, these certifications form the basis for long-term cooperation and joint success in international markets. With our holistic approach, we convince as a reliable and forward-looking partner.