12.11.2021
Change of management at Fabmatics USA
Thomas Beeg succeeds Stan Rosenlof, who is retiring
Generation change is now also affecting Fabmatics USA Inc. in Salt Lake City: after the long-standing managing director team Pollack-Esser was succeeded by the new management, Dr. Roland Giesen and Dr. Andreas Purath, at the German headquarters in 2018 and 2020, a change in management is now also coming in the USA.
After 10 years as Managing Director of Fabmatics USA Inc., Stan Rosenlof will be taking his well-deserved retirement at the turn of the year and handing over his post to new hands.
From 01.01.2022, Thomas Beeg will be in charge of Fabmatics USA Inc. Thomas Beeg was most recently Director Factory Automation / Industrial Engineering for Wolfspeed's (formerly CREE) new 200mm Fab in New York State. Wolfspeed is a publicly traded global leader in silicon carbide (SiC) chips. In this role, he was responsible for the concept, design, supplier sourcing, price negotiations, installation, commissioning and operational management of the fab.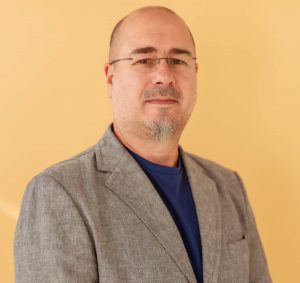 As a graduate engineer in industrial electronics, he looks back on more than 25 years of professional and management experience in the semiconductor industry at Infineon/Qimonda and Globalfoundries US, among others. During this time, he was able to build up and successfully apply comprehensive technical expertise in the areas of equipment engineering, manufacturing operations, industrial engineering and factory automation.
Mr. Beeg already started working at Fabmatics USA Inc. on Oct. 1, 2021, and has been getting to know the company as well as the business partners in an intensive familiarization process since then.
"I already was in contact with Fabmatics and the very interesting field of factory automation as a customer in the last years. Fabmatics has a great competence especially in the automation of material flows and handling processes in legacy semiconductor fab production. To significantly expand the US business in the next years and to develop new use cases for the Fabmatics products is a very exciting task. I am looking forward to this promising change of perspective," says Thomas Beeg about joining the company.
Dr. Andreas Purath, Managing Director of the German Fabmatics GmbH and Chairman of the U.S. subsidiary is also pleased about the new arrival: "Under the positive omens of the current business development on the global semiconductor market and the associated great potential for our U.S. business, we are very pleased to welcome Thomas Beeg, a well-connected and proven expert of the American semiconductor environment, to our management team."
Successful post-merger switch
Stan Rosenlof had been Managing Director of Roth & Rau – Ortner USA Inc. since 2012. With the merger of the German parent company with HAP GmbH Dresden to form Fabmatics in 2016, the main business focus of Fabmatics USA changed. "At that time, our team focused on providing highly specialized installation and service for automation systems from major AMHS suppliers. That was, and still is, a great business for our company," Stan Rosenlof remembers. "But with the merger came a unique combination of integration, manufacturing and robotics knowledge, so for the past few years we've been able to offer integrated factory automation solutions with our own products."
The course taken is confirmed. This year, the company has recorded the best order intake in its history.
---
About Fabmatics
Fabmatics is an experienced specialist in the automation of material flows and handling processes in the semiconductor industry and other high-tech production environments. Founded in 1991, the company has been successfully implementing customer-specific automation projects for customers in the semiconductor industry for more than 30 years, helping to make their production more efficient, faster and safer.
The portfolio includes a modular product range of hardware and software for the automation of handling, transport and storage processes as well as solutions for product identification and localization. The range is supplemented by consulting and development services from the company's own R&D department for the realization of customer-specific solutions with a unique depth of customization and maximum functional reliability.
Fabmatics thus has the unique competence to offer comprehensive solutions in the field of material flow automation for use under cleanroom conditions from a single source.
Fabmatics operates worldwide and currently employs around 210 people. Fabmatics is a member of the global industry association SEMI, the high-tech network Silicon Saxony e.V. and the AND Automation Network Dresden.
---
For press inquiries:
Fabmatics GmbH, Kathrin Kammer, Head of Marketing, Telefon: +49 351 65237-230, Email: kathrin.kammer@fabmatics.com