29.08.2022
Meet Fabmatics at the Robotics Festival Dresden 2022
In 2021, the Robotics Festival caused quite a stir with its premiere in Dresden. Now the second edition will take place from September 13 to 15, 2022, this time in Leipzig. Fabmatics will be there again and will be jointly represented with the Smart Systems Hub this year.

This year, the festival will run over three days. Days 1 and 2 will continue last year's successful formats: 20-minute talks, panels and fireside chats on the future of the industry and focus topics such as Robotics Business & Markets, Flexible & Smart Robotics, Humans Working with Robots, Mobile Robots & Logistics, Digital Ecosystems and Robots in Special Environments. On Sept. 15, the newly created "Applications and Clients Day" will take place. The aim here is to talk about specific applications, products and solutions for challenges faced by small and medium-sized companies, for example, and to present successful projects.
Fabmatics at the exhibition and in the conference program
Fabmatics supports this innovative event of the robotics community in Saxony and will be exhibiting together with the Smart Systems Hub as well as contributing a presentation on the topic of "Co-Innovation" during the Applications and Clients Day on September 15. Together with our colleagues from the Smart Systems Hub, we will present the results and learnings from the joint "Digital Product Factory" with regard to our goal of developing new data-driven business models.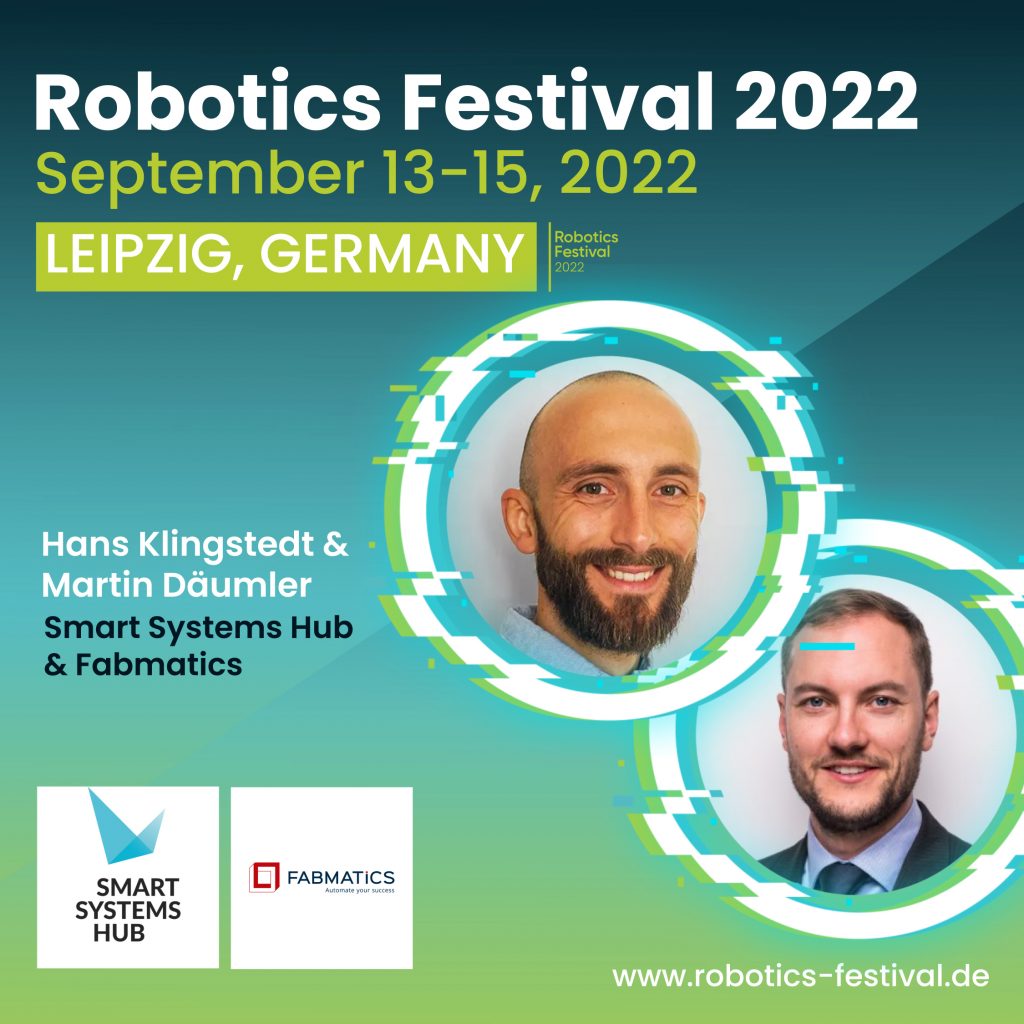 Date: September 13 – 15, 2022
Location: AGRA Messepark Leipzig, Bornaische Str. 210, 04279 Leipzig
Boothno.: tba
Co-exhibitor: Smart Systems Hub
Lecture: September 15, 2022, Stage 1, title and time tba
For more information about Robotics Festival 2022 and to register, click here.