27.10.2021
19th Innovation Forum for Automation 2022 – Save the Date!
Due to the ongoing pandemic situation, we decided to host our "in person community meeting" next summer. Mark your calendars today and stay tuned for more updates soon!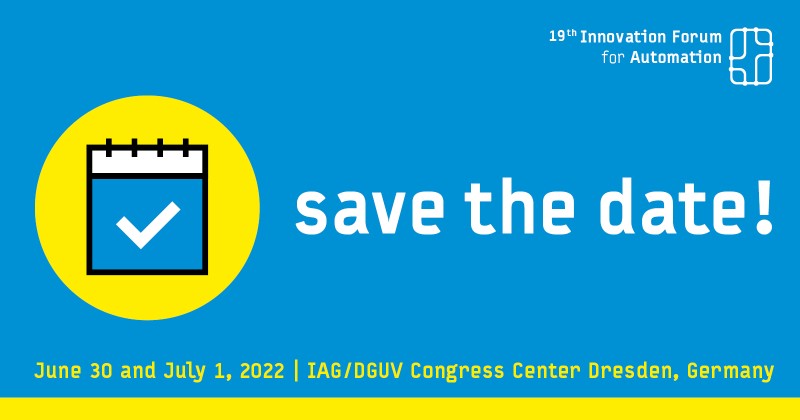 Good news! We have already started planning for the 19th annual Innovation Forum for Automation in Dresden being held June 30 and July 1, 2022!
We traditionally host this event in January and traditionally we meet in-person. We are experiencing insecure times these days and the Corona pandemic is likely to keep us busy this winter as well. Taking this into account and envisioning the next Innovation Forum for Automation as our "in person community meeting", we have shifted the dates out several months. We plan to resume our January schedule for the 20th Innovation Forum in 2023.
The Automation Network Dresden team is currently developing an agenda and planning for presentations that will cover new automation trends and topics across high-tech industries. Updates will be coming your way soon with announcements of our presenters and more detailed information on the agenda.
For now, reserve your calendars for the 19th Innovation Forum for Automation. If you have any questions or would like information on becoming an event sponsor, please feel free to contact us.
---
About the Innovation Forum for Automation
This annual conference has been organized by the Automation Network Dresden (AND) from Germany since 2004. Its member companies (Kontron AIS, SYSTEMA, XENON and Fabmatics) are dedicated to bringing you the latest information on significant factory-automation projects as well as new automation technologies spanning various industries with a focus on semiconductor.
The 2-day-event provides a platform for more than 300 international executives, managers, engineers and researchers to discuss the latest factory automation technology developments, challenges, and solutions.
Each year, we select one project to honor the drivers for innovation by rewarding them with the 'Innovation Award for Automation' at the popular AND dinner party.