We offer a hands-on opportunity for American students:
Engineering Internship at German Headquarters of Fabmatics
FABMATICS – Passion for high tech and future in mind
Fabmatics is one of the leading suppliers of automation and robotics systems in the semiconductor industry. Our solutions help one of the world's most important industries to manufacture microchips and sensors for digital applications. To do this, we combine solid mechanical engineering with intelligent software solutions and reliable equipment service. We build on a foundation of over 30 years of experience and expertise. Over 200 employees contribute to the success of our company every day. And we continue to grow. Join our team of passionate automation professionals and individual characters. Come on board!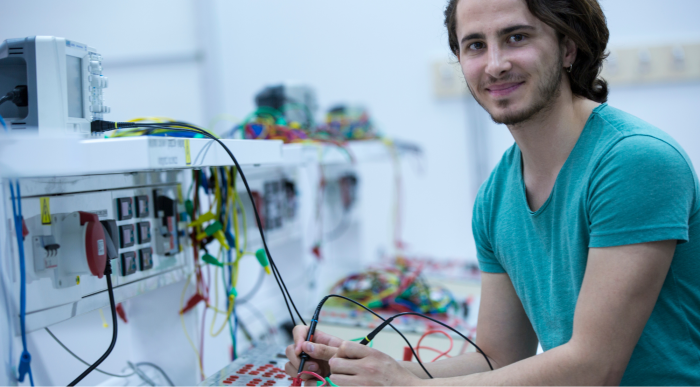 Would you like to spend a semester abroad in Germany?
External Content

Please accept "External Media" cookies to see the content.

I accept the display of external media and the transfer and processing of personal data according to the privacy policy.
What we offer
Diverse, exciting tasks at an automation specialist for chip factories
Opportunity to fully contribute, deepen and extend your knowledge & experience and to develop yourself personally

Training on the job

Experience a great country & its people

Learn German
Focus areas
Software Engineering
Mechanical Engineering
Electrical Engineering
Product Development
Your profile
Pursuing a Bachelor's or Master's degree in Mechanical or Electrical Engineering or closely related fields
Interest in production automation
Good analytical, technical and organizational skills
Working independently, being flexible and eager to learn
Open-minded personality
Willingness to travel
A minimum of 4 months availability for internship
Why you'll enjoy working with us
Innovative work in an innovative and excitingly progressive industrial sector
Open, friendly and appreciative cooperation with a strong team spirit
City of Dresden and its beautiful surroundings with its art, culture and hospitality.
Did you recognize yourself in the description?
In our organization you can expect diverse opportunities to grow both professionally and personally and thus create the best possible prospects for starting your professional career.
Don't wait any longer and apply now at:
Fabmatics USA Inc
Human Resources
326 Broad St., Suite 1
Utica, NY 13501 / USA
For further inquiries, please use the contact below.