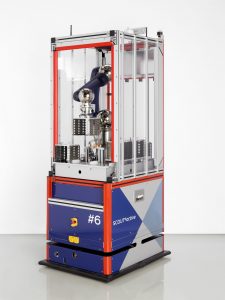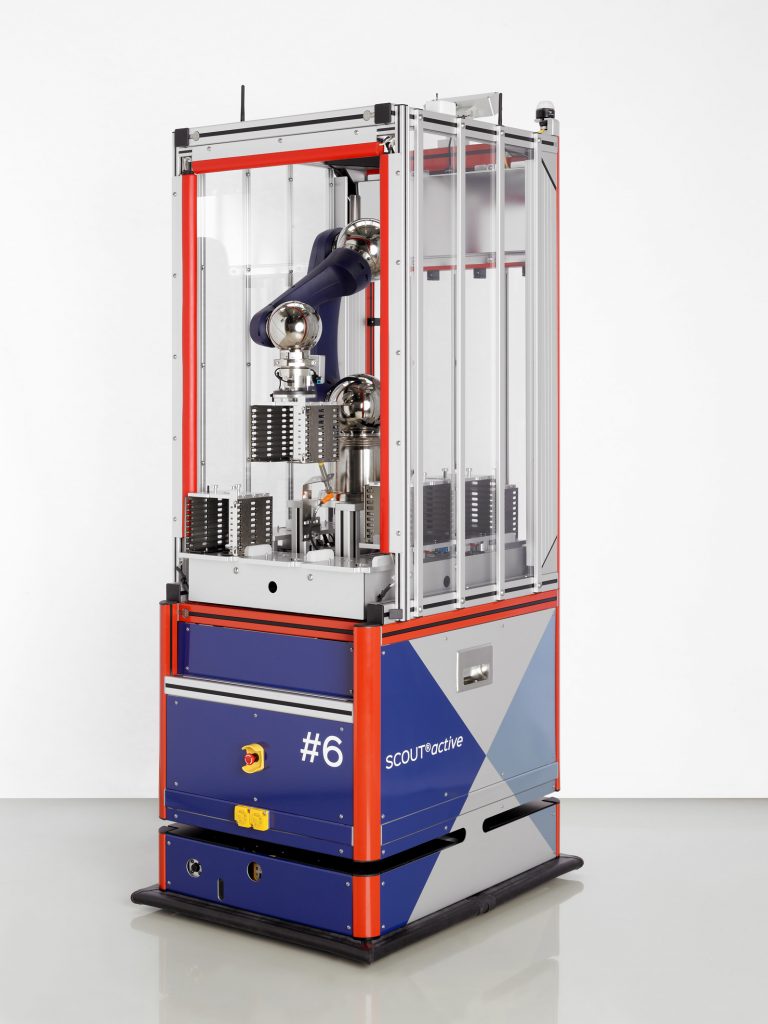 SCOUT®
As an autonomously navigating mobile robot, the SCOUT® is the ideal and flexible alternative to permanently installed transport systems.
+++ New SCOUT generation to be launched at the end of 2023.+++
More information required? Please feel free to contact us.
Mobile robot in cleanrooms
SCOUT® by Fabmatics is an automated guided vehicle (AGV) for flexible material transport in semiconductor fabs and other clean production environments. SCOUT® has been developed in cooperation with the MetraLabs GmbH, a specialist for mobile robot platforms.
It navigates autonomously and does not require any guidance systems on the floor or on the ceiling. Once it has been programmed, it is capable of transporting materials and products between any points in the fab, taking measurements, and providing tools and auxiliaries without the presence of an operator.
Its compact size and extreme agility make it very flexible, and thanks to its reliable sensor technology, it can even be used safely in areas where people and machines work closely together.
SCOUT® is the ideal alternative if a permanently installed transport system like a rail or conveyor system cannot be implemented or would be too expensive.
SCOUT® models:
SCOUT®cargo for passive transportation
SCOUT®active with 6-axis-robot
SCOUT®triax with 3-axis-handling unit for Reticle Boxes
SCOUT®triax300 for 300mm FOUP handling
SCOUT®roro with conveyor unit
SCOUT®substrate for transportation of glass substrates
Features:
Autonomous navigation
Proven cleanroom suitability up to ISO class 3/US FED class 1
Daily working period up to approx. 18 hours with 5 hours of charging
Detection of the environment and people and avoidance of hindrances including permanent, optimized path planning via use of innovative 3D sensor technology
Moderate investment and low operating costs