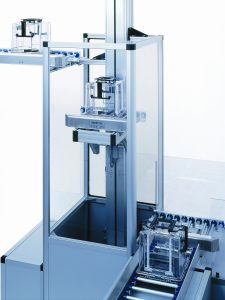 IntelliTrack®-Conveyor-System
The IntelliTrack® conveyor system allows the most diverse transport containers to be moved across multiple levels throughout the fab.
Intelligently controlled roller conveyor
This automated transport system for semiconductor fabs is suitable for conveying nearly all types and sizes of transport containers like FOUPs, SMIF pods, open cassettes, and customer-specific boxes. The separately controlled drive motors of the linear roller conveyors, which are divided into zones, enable collision-free transport according to the highest cleanroom requirements. Transported goods are therefore also able to be variously accelerated or slowed according to the sectors. The drive side and the passive rollers on the opposite side are connected via hollow shafts so that synchronous drive is ensured on both sides. The turn tables and lifts across multiple levels also allow the system to be used diversely in tight spaces.
One special characteristic of the IntelliTrack® conveyor system is the matchlessly easy and flexible controls provided via built-in micro-controller for defined function groups. The "Plug & Play" function of the conveyor system clearly reduces production down-times that normally result from installation work.
Application scenarios:
High-speed transport of wafer cassettes from process machine to process machine
Buffering wafer cassettes below the cleanroom ceiling, e.g. empty pod management
Features:
Meets the requirements of cleanroom class 3/US FED 1
Configurable for different product carriers
System expansion possible at any time
Automation and integration options with SEMI E84, SECS II according to SEMI E4, E5, E30, E37
Easy to combine with other transport systems
Easy installation and integration