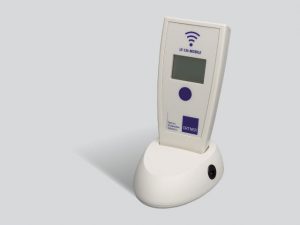 LF-134-MOBILE
The RFID reader LF-134-MOBILE impresses through its mobile use, the quick reading operation and the minimum charging time.
Product information
The handheld reader enables fast, mobile identification of all products and production lots based on 134.2 kHz, for example carrier, FOUP, or SMIF pod.
For convenient use when reading product identification numbers, all of the necessary components are housed within an ergonomically formed case.
Practical plus: thanks to the snap clip, the reader is able to be placed anywhere. The read process is started by lightly pressing the blue button. In just a few milliseconds, the large display indicates the identification number of the transponder – even at a distance of up to 100 millimetres.
The integrated gold cap power supply works nearly without any aging effects. After less than a minute of charging time, the LF-134-MOBILE is ready for operation.
Features:
Ergonomic and functional design
Fast and mobile operation
Very fast charging time
Integrated antenna with superior range