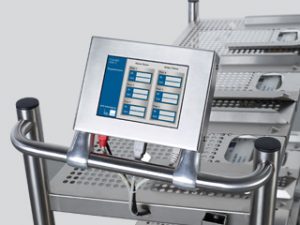 CAN-Controller
The CAN-Controller connects the CAN bus devices to your own network. And its capable of even more: numerous additional interfaces and usage options make it a must-have for your production, too.
Product information
The CAN-Controller is used in industrial applications and works with customer-oriented applications as Soft SPS. For the semiconductor industry applications based on HSMS and SECS were standardly implemented.
The CAN-Controller handles communication between the RFID readers and background systems like MES, MCS, and more. It is also able to create an interface for the operator via an TFT touchscreen.
The various interfaces provide numerous possibilities for use. The controller may be integrated directly in the machines or systems themselves. However, the CAN-Controller as an individual device with its own housing is also useful.
Features:
Up to 50 CAN-RFID readers may be connected
Optional TFT touch display