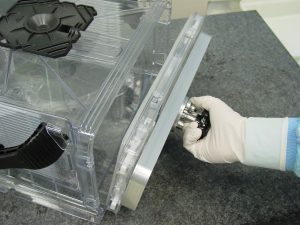 EASYopen
EASYopen is a manual Fabmatics tool to open and lock doors of 300mm Wafer FOUPs in an one-hand version.
Manual Opening Tool
EASYopen is an intelligent tool for manually opening 300-mm wafer FOUPs. It is hand-operated. EASYopen locks the door and actively prevents it from falling down when the FOUP is open.
Other support tools, e.g. to manually handle reticles (reticle grippers, reticle flippers), are also available.