Position with immediate effect for our US subsidiary:
Installation Manager (m/f/d)
Work location: USA
FABMATICS – Passion for high tech and future in mind
Fabmatics is one of the leading suppliers of automation and robotics systems in the semiconductor industry. Our solutions help one of the world's most important industries to manufacture microchips and sensors for digital applications. To do this, we combine solid mechanical engineering with intelligent software solutions and reliable equipment service. We build on a foundation of over 30 years of experience and expertise. Over 200 employees contribute to the success of our company every day. And we continue to grow. Join the team of passionate automation professionals and individual characters. Come on board!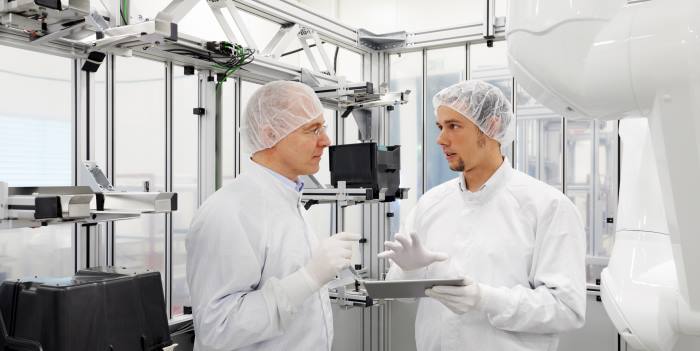 Objective
The Installation Manager …
… will provide installation and project management guidance to project managers.
… forecasts, organizes, and assigns work to project managers. This includes coordination with factory project management and coordination of international resources.
… requires excellent interpersonal and communication skills, in addition to the skill set and experience requirements listed below.
… must be a strong self-starter and capable of working with minimal supervision from executive management.
… handles the direction and oversight of project managers, site managers, and lead technicians. At times, this may include actual covering for project managers during vacations, vacancies, etc. as well as interventions and escalations as needed.
Your tasks
Continuously monitoring upcoming and ongoing projects throughout the process; from prospective purchase order through final acceptance test and handover to service operations.
Ability to learn and accommodate details of engineering, world class installation practices, sites requirements, and project management are a critical necessity.
Ensuring that project managers, site managers, and lead technicians are adhering to and following safe practices as well as remaining compliant to site and all government safety policies. This includes compliance to all customer site, local, state, and national safety guidelines, and requirements where Fabmatics installation is taking place. All installation activities must be performed in a safe and efficient manner.
Travel to various sites to interface with project managers and customer face-to-face meetings.
Responsibilities will include but are not limited to: Automation Material Handling Systems (AMHS) installation; supervision and training; AMHS repair, corrective, and emergency maintenance, and/or adjustments necessary to meet and maintain FAT compliance requirements.
Ensuring the safe and cleanliness conditions of work areas, toolboxes, parts, etc. used for installation/repair/maintenance at the installation site/s.
Communication of required tasks and duties to project managers, site managers, and lead technicians in a clear, concise, and professional manner.
Promoting and maintaining good work ethics and positive reinforcement of morale, individual performance, and project timeline considerations.
Promoting, supporting and conveying project managers requests for additional training for their personnel or teams, clarifications, or answers to elements of the job, technical information, or policies he/she does not understand. This includes how-to-do the work, good housekeeping, safe work practices, effective communication, and adherence to Customer's and companies work policies and procedures.
Your profile
High School Diploma or GED and 3 years of technical install experience (engineering/construction)
Vocational school or some college courses
Associate's or advanced degree in business with engineering or technical field experience preferred
5+ years of project management on >$5 million projects.
Project management experience installing AMHS, automation, and robotic equipment.
Experience managing teams from 1-50 personnel.
Experience and knowledge in the areas of automation, robotics, and semiconductor industries
Cleanroom experience a plus.
Knowledge of AutoCAD or similar CAD software.
Advanced Excel and Microsoft Office tools.
Why you'll enjoy working with us
Innovative work in an innovative and excitingly progressive industrial sector
Respectful, family-like interaction and a strong team spirit internationally
Long-term perspectives for good promotional opportunity prospects
Internal development opportunities based on good performance
Full-time employment
Excellent Medical, Dental, Hearing, Vision, AD&D life benefits
401(k) investment plan with company match
Excellent paid holidays, personal leave, and accrual benefits
Did you recognize yourself in the description?
In our organization you can expect diverse opportunities to grow both professionally and personally and thus create the best possible prospects for your professional career.
Don't wait any longer and apply now at:
Fabmatics USA Inc
326 Broad St., Suite 1
Utica, NY 13501 / USA
For further inquiries, please use the contact below.