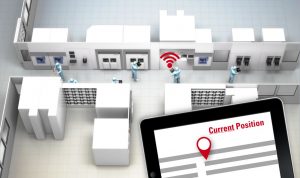 FAB-LIPS – Local Identification & Positioning System
FAB-LIPS is a real-time locating system (RTLS) based on ultra-wideband (UWB) technology for indoor positioning of batches in semiconductor manufacturing plants. Whether during transport, in storage or on loadports – the system enables reliable 3D positioning of hundreds of batches everywhere in the fab without extensive infrastructure such as an RFID reader per storage bin.
Everything at a glance – Identify and track the location of all batches automatically in real time
FAB-LIPS is a kind of "indoor GPS". Based on distance measurements to a plurality of reference points of the FAB-LIPS system the position of each wafer box or SMIF Pod is determined. The system consists of the following components:
Tag: The wafer boxes or SMIF Pods are equipped with mobile tags. These are located in the wireless network via UWB. Tags with integrated display can show all process-related data to the operator.
Anchor: The anchors have fixed positions in the localization network. They act as reference points for locating and enable the transmission of position data.
Gateway: Gateways are anchors, but they are also the interface between the higher-level IT infrastructure and the wireless network. The IT infrastructure is used for the exchange of localization information and application specific data between the wireless network and the localization server.
Localization Server: The positioning calculation as well as the management of the mobile tags is done on the localization server. An interface to the MES ensures the process data exchange and provides the position data for further analysis and use. Based on these data logic operations can be generated, e.g. "According to coordinates, LOTID 12345 is located in WIP-Rack XYZ, Shelf 1."
Fields of Application
Especially for semiconductor manufacturing plants which are priority manually operated with a lot of storage bins, FAB-LIPS could be a cost-efficient alternative or supplement to RFID.
FAB LIPS is an alternative to the IRID technology (infrared identification).
FAB LIPS is particularly suitable for 200mm/8″ semiconductor manufacturing plants working with SMIF pods and wafer boxes. Especially for SMIF fabs FAB-LIPS may be the key enabling technology to further factory automation.
FAB-LIPS Features:
UWB with minimal power consumption and maximal positioning accuracy
Easy and flexible installation
Freely scalable solution
Accuracy: 12″ down to 4″ depending on environment; system upgrade: reliable distance measurement via mini anchors assures assignment
Scalable tags available, e.g. Tag with integrated e-ink display for displaying application data
Energy concept will be adapted to customer requirements (tags can work up to 2 years without a battery replacement)
FAB-LIPS Benefits
Real-time locating of all wafer cassettes at the whole fab
Expanded operator efficiency by avoiding lot searching activities. All relevant and correct information is available at the point of action.
Low installation and maintenance costs (CoO)
Paperless Manufacturing: Tag displays show all process-related data to the Operator
Shorter Cycle Time and lower WIP, because full shop floor visibility provides a platform for logistic optimization. Compliance to dispatch priorities is achieved. Motion profiles enable material flow optimization